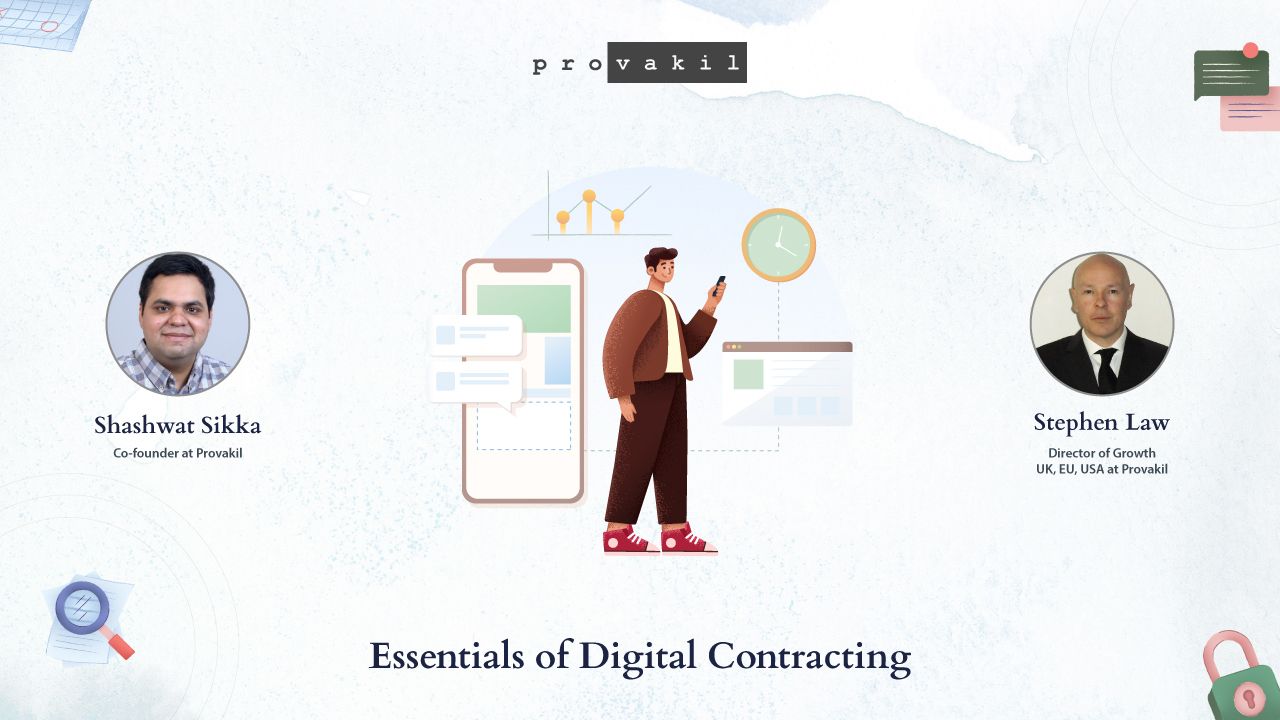 Essentials of Digital Contracting - Key Takeaways
"Digital contracting is not just about standard templates and digital execution of contracts. It's about re-imagining the whole contracting process and adding value back to the core business"
Shashwat Sikka, Co-Founder at Provakil
9th September 2021: Shashwat Sikka and Stephen Law hosted a webinar last week covering the essentials of digital contracting. They addressed the need to go digital, followed by a quick demo of an efficient contracting process using Provakil's CLM.
Enterprises have long struggled with manual or hybrid contracting, where a part of the process was digitized. Still, most of it had to be run manually over disparate tools. All of this results in bottlenecks and slows down business transactions. The legal teams must go over the smallest of the details for identifying and isolating any risks involved. The real difficulty lies in designing a system for all stakeholders to collaborate and seamlessly cut down the turnaround time.

Another area for CLM tools to focus on is using machine learning to make contract review easier for lawyers by contextual processing of the text. It will drastically cut down the time legal spends reviewing every contract manually and identifying the problem areas. The tool will perform a fundamental review and pick out the problem spots using an intelligent review
As organizations focus on digitizing the contracting process, tools to solve these problems will bring a massive shift in contract operations for enterprises and create enormous value.
"Covid-19 has accelerated most people across the planet to digitize their systems. Even in the conservative legal industry, where everyone now had to work remotely, going digital has been a triumph card."
Stephen Law, Director of Growth UK, EU, USA at Provakil
When migrating the contracting process to a digital platform, data security questions are critical given the sensitive nature of the documents and information involvement. Shashwat addressed these questions put forth by our attendees and explained how Provakil tackles security in-depth. He also talked about essential considerations in assessing data security and reliability for cloud-based systems and the importance as a critical attribute to zeroing down on a solution.
Other key highlights included:
# Benefits of e-signatures and how they improve time and cut down risks.
# High adaptability of the Provakil CLM to ensure it adapts to different processes, workflows, and data models.
❌ Manual tracking of the contract till execution and those tedious late nights for weeks.
✅ Digitize contracts and get all this done in a single window within days, not weeks.
Wrapping up, thank you for joining us. If you are curious about improving your contract operations, avail a quick demo of our products. It won't take long!
If you wish to know more about Provakil, get in touch with us. We would be happy to walk you through our solutions.
Provakil Blog Newsletter
Join the newsletter to receive the latest updates in your inbox.
---