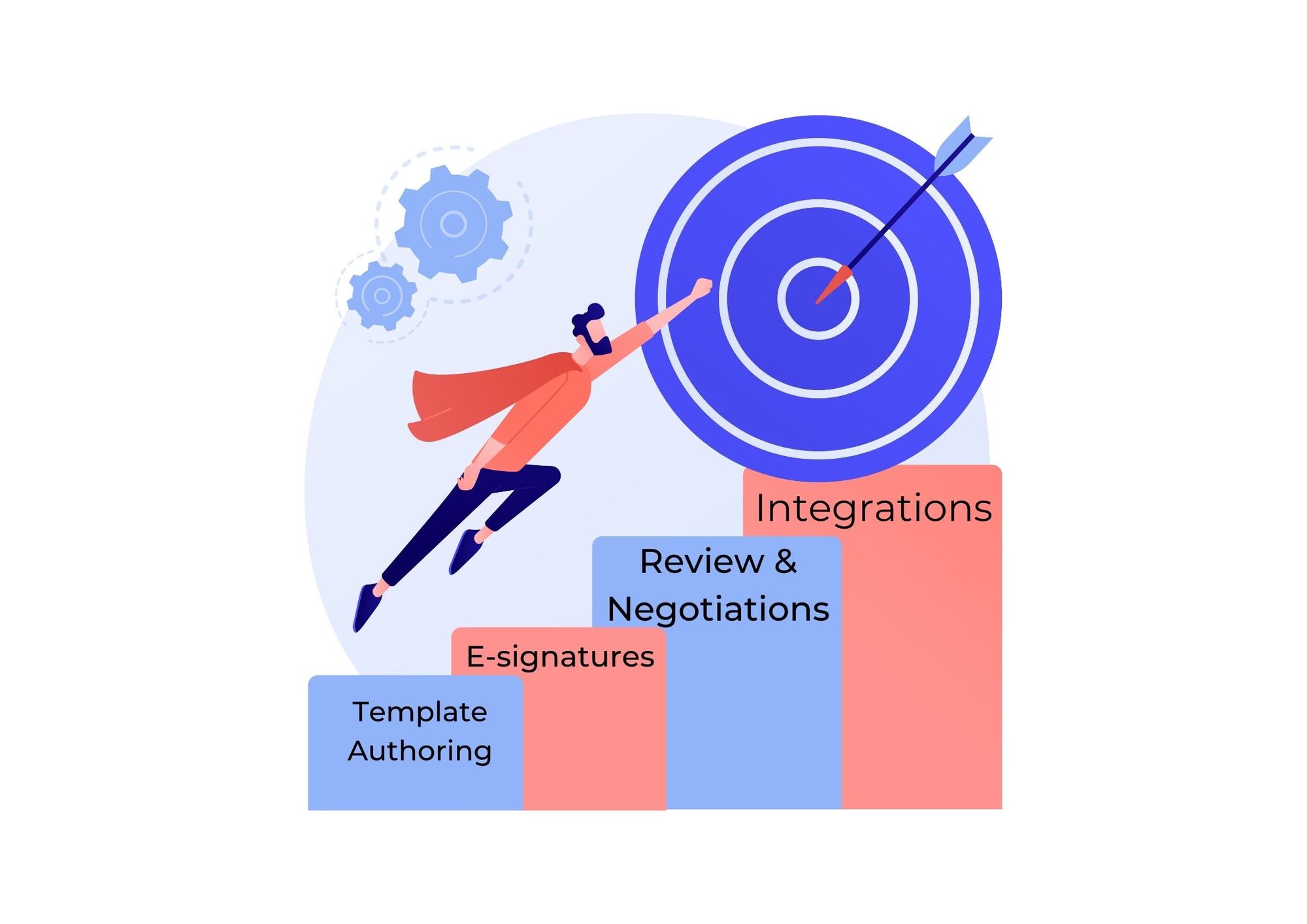 What Is Contract Lifecycle Management?
Contract lifecycle management is the future. Digital contracts are now gaining rapid importance. Read below how our CLM will help you improve your business operations
A contract is generated by the will of the parties and comes into existence by their collective actions. The process that revolves around the creation to execution of a contract is called the "lifecycle of a contract." This lifecycle will also go on to include contract renewals, obligations, and modifications, as and when required.
A software that effectively manages the lifecycle of all the contracts that an enterprise enters into is called a "Contract Lifecycle Management Software" (CLM). Implementing a comprehensive CLM can bring about some much sought-after improvements in a company's expenditure and savings. Accurately configuring a CLM can reduce the firm's susceptibility to risks and missed obligations or other legal requirements.
All of the steps (formation and execution of a contract) are of equal importance. Traditionally, only a few aspects held the highlighted spot, like contract templates. But with the evolution of tools that are driven by artificial intelligence and machine learning, post-execution management of contracts has also gained a place in the limelight. Together, a completely automated contract lifecycle process acts as a propellant to business growth and promotes optimized business operations.
Let us quickly go over each step of contract management and how software can make it more agile.
Authoring A Digital Contract:
Contracts were ideally drafted with pen and paper. They were also drafted out by hand and thus had a significant scope for human errors. Plus, drafting and getting all the terms right took quite some time. Everything had to be done and scrutinized by a legal professional every time a contract had to be drafted.
Pre-saved templates and the ability to create custom templates with the help of intelligent software have enormously reduced the turnaround time for authoring a contract. An automated CLM will also assist you in pulling "Contract Clauses" from an existing clause library. Once the clauses are in place, authoring a contract is a quick and hassle-free process. Provakil's CLM lets you upload your templates to our platform, store them, and edit them for future use.
Creation Of A Digital Contract:
A contract lifecycle management software offers an extensive set of in-built rules and integration that easily create contracts using templates and a clause library. The content you require for a contract is compiled automatically using templates and clauses. Rule-based creation ability dramatically improves the efficiency of contract generation while having adequate control over the entire process.
With Provakil's CLM, the system can let you customize role-based approvals for such edits if the templates have to be edited. No person other than the one with the necessary permissions assigned will make the required changes.
No-touch contract creation is one of the highlights that an advanced contract lifecycle management tool will offer you. It will seamlessly integrate with your already existing software like CRM or any e-signing platform. Suppose you already run solutions for sourcing and procurement. In that case, bulk data uploads are also possible with the best of the solutions.
At Provakil, our CLM aims to enable a "Self-author" mode for business users that significantly reduce their time and efforts put on legal operations.
Reviewing The Digital Contract:
The process of negotiations and review of a contract to make the required changes is tremendous. An agile CLM solution will capture all commercial terms, prices, discounts, incentives, and rebates systematically and make it easy to review the contracts.
Provakil's CLM has "Redlining" capabilities that highlight the changes made to a contract currently under review. This will give the legal team actionable insights that they can track and negotiate wherever required—no need to skip through the entire contract to find changes anymore. As we always say, contracts are the basis of any business. They need to assist the company in achieving its business goals and not hinder them. With intelligent digital contracting, enterprises will be able to complete the full potential of executing their contracts.
Approvals:
Contracts that follow a strict scrutiny process at the highest level are the contracts that are the safest bet. Leveraging effective control via approvals with all the associated data using configurable workflows is the feature any effective CLM should have.
With our CLM, you can execute a well-orchestrated approval process with sequential and parallel approvals wherever required. Having configurable workflows makes it easy for business folks to manage the intuitive rules, updates, and definitions that they can also set manually.
In short, with an intelligent CLM, the authority of administrating and executing contracts becomes easy but still has the required monitoring mechanics.
Execution Of A Digital Contract:
Recently, an NFL quarterback executed a $10 million contract from his phone while sitting in a fast-food parking lot! This is how easy executing a digital contract has become.
With the help of e-signatures and various platforms offering the capabilities to sign a contract from anywhere digitally, digital contracts can be quickly executed sitting in your car. The secure integrations and processes monitored by workflows and central repositories have made execution; a piece of cake!
Our CLM is designed to work without a glitch with your current e-signing solutions.
Performance Of The Digital Contract:
Post-execution contract organization has for some time been past the domain of advanced arrangements. The agreement language is complex for PCs to parse, passing it to human administrators to complete agreement actions. However, this is not true anymore. In today's time contract lifecycle, the board programming clients can acquire valuable performance experiences on all spaces of agreements from legitimate, money, deals, and obtainment. The board programming of a contract lifecycle incorporates a full-included investigation module that empowers bits of knowledge on the information. For example, process durations, deviations, reserve funds, chances, expiry, restoration insights, and acquisition and deals measurements on agreement income and spend. Users can likewise accomplish better compliance for contract responsibilities by recognizing, catching, allotting, and following fulfillment of errands relegated to entrepreneurs—even with responsibilities including outsider paper and complex responsibilities, like those with different proprietors or across locales or specialty units. Clients can, without much of an effort, take responsibilities in the web interface or Microsoft Word. Responsibilities can likewise be auto-made and allocated to proprietors utilizing rules. Lastly, clients can recognize and oversee hazards post-execution. A configurable danger model aids in tracking threats across various classifications, for example, monetary, legally binding, execution, and outsider. Clients can gaze upward and influence inner information just as outside information, from sources like D&B and Thomson Reuters, to decide hazard scores, guarantee proactive danger checking and increment perceptibility.
Expiry And Renewals Of Digital Contract:
Contract lifecycle management software provides proactive alerts and notifications for significant milestones, including contract expiry or renewal. A configurable dashboard provides insights into the business impact of expiry or renewal, so contract owners are not caught off guard.
The Benefits Are Evident:
The right CLM solution connects the agreement interaction to arrange satisfaction and charging, wiping out blunders, decreasing danger, and guaranteeing that income can be estimated all the more precisely. Enabled with data, you can deal with contracts as are they: Assets, giving profound experiences and upper hands.
Our CLM is built to make your contracting process effortless. CLM's not challenging to use. It is an innovative platform for a vast contracting capacity. It executives capabilities to transform the contracting process into a triumph-card for fast-tracking business operations.
Provakil Blog Newsletter
Join the newsletter to receive the latest updates in your inbox.
---