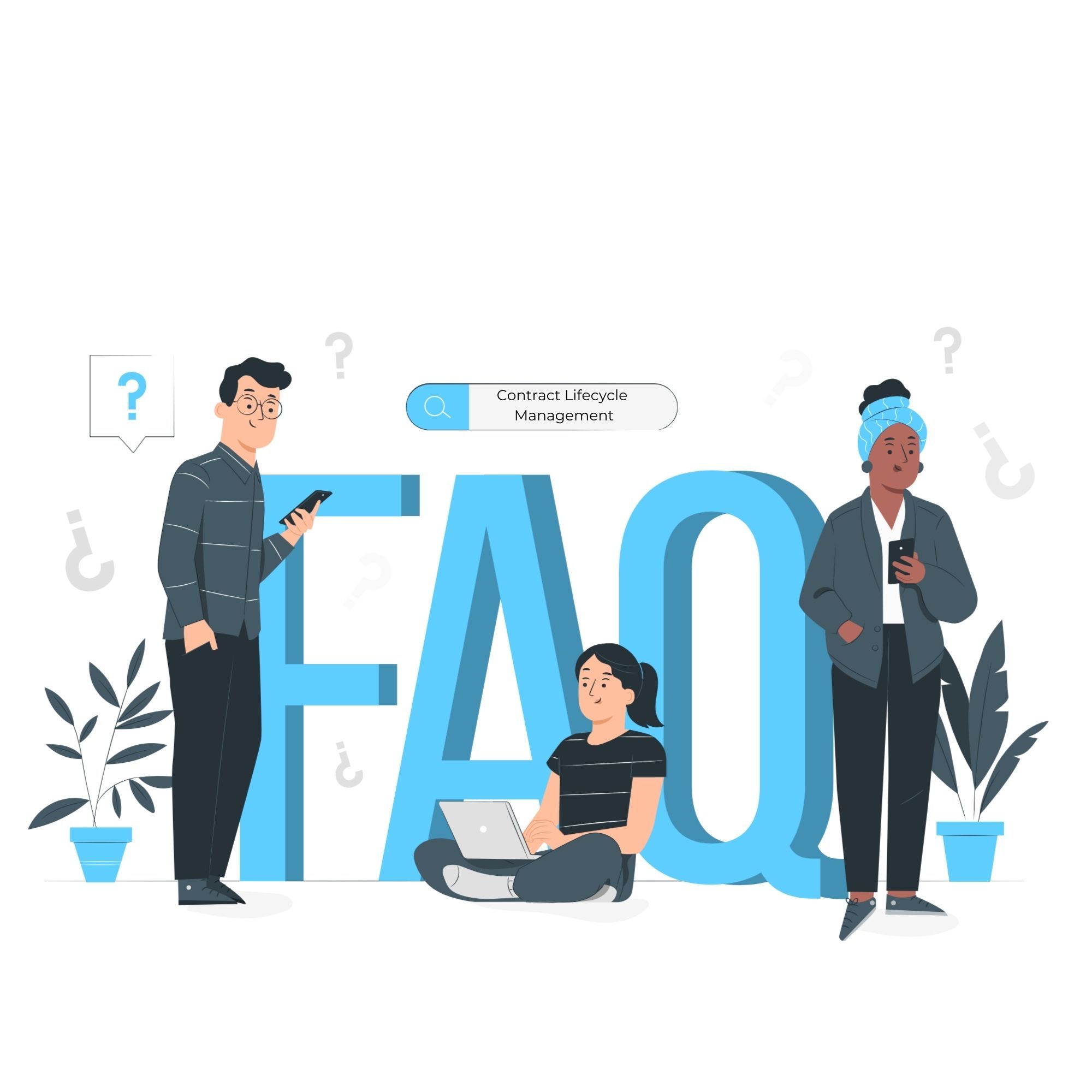 CLM-Frequently Asked Question
Contract Lifecycle Management is now rapidly gaining importance as the Covid-19 pandemic fueled the digitization process. Enterprises are becoming more focused on having central repositories and an overall streamlined contracting process.
Today we are discussing some frequently asked questions surrounding contract lifecycle management software and how it impacts the overall health of businesses and enterprises.
What is contract lifecycle management software?
A Contract Lifecycle Management is a process that works around automating and streamlining the entire lifecycle of a contract at all the key stages. A CLM software is a clever technology that creates an automated digital tool to accommodate and facilitate your contract lifecycle.
Contract lifecycle management solutions help legal, finance, logistics, and sales professionals accelerate contract management processes by using vendor and supplier information more efficiently. Companies sign contracts faster by storing offers, supplier negotiated prices, and contract terms in a central digital repository. They gain trust more quickly and retain the influence of contracts on the final price.
Creating a simple language, combining links and terms that buyers and suppliers can use again, saves time and curtails the possibility of human error. A self-sufficient CLM will execute a successful contracting process using:
Reducing the term around for contract execution.
Providing an interactive central repository.
Having ready-to-use standard templates.
Redlining ability to track changes.
What are the stages of contract management?
The lifecycle of a contract goes through various stages before a successful execution. Here is a quick reference list for you:
Planning phase:
Before starting any operation, it is essential to develop a system that best suits your company's needs and resources. To keep things manageable, it is also necessary to develop contract management processes that can be implemented at the company level.
Execution phase:
Now that you've defined your contract management processes running your program before using it is a good idea. This includes the provision of contract management software(link) that supports you in completing contract-related tasks, as well as the transfer of your contracts to a central repository.
Pre-contractual phase:
Now that you have your contract management basics in place, you can implement them into new agreements. That means developing new contracts or enforcing standard agreements for more standard positions.
Delivery phase:
It is common - especially in larger companies - that the people involved in executing the contract are different from those who negotiated it. To guarantee the expected performance of the agreement, it is therefore essential to ensure a smooth delivery.
Contract phase:
In the contract phase, all the goals of your arrangements are achieved - if you manage them correctly. And it prepares you for many of your previous tasks in contract management.
Pre-renewal phase:
Now is the time to evaluate the performance of the contract and decide whether to extend it or change it. Ensure everyone involved is informed of the expiration date and that you have enough time to review all of the information before deciding.
Post Contract phase:
After the contract is signed, some cleaning needs to be done to ensure everything is done correctly. This means, among other things, that you comply with the cancellation conditions, issue or pay the final invoices and submit your contract. It is also helpful to do an autopsy of a contract, providing valuable information and guidance to improve future outcomes.
What does CLM stand for?
A CLM is the short-form for a Contract Lifecycle Management Software.
At Provakil, we help you choose the right CLM for your business, one that you can trust and rely on to get your work done. If you are interested in knowing more, you can drop us a line or directly book a consultative call with our experts.
Provakil Blog Newsletter
Join the newsletter to receive the latest updates in your inbox.
---