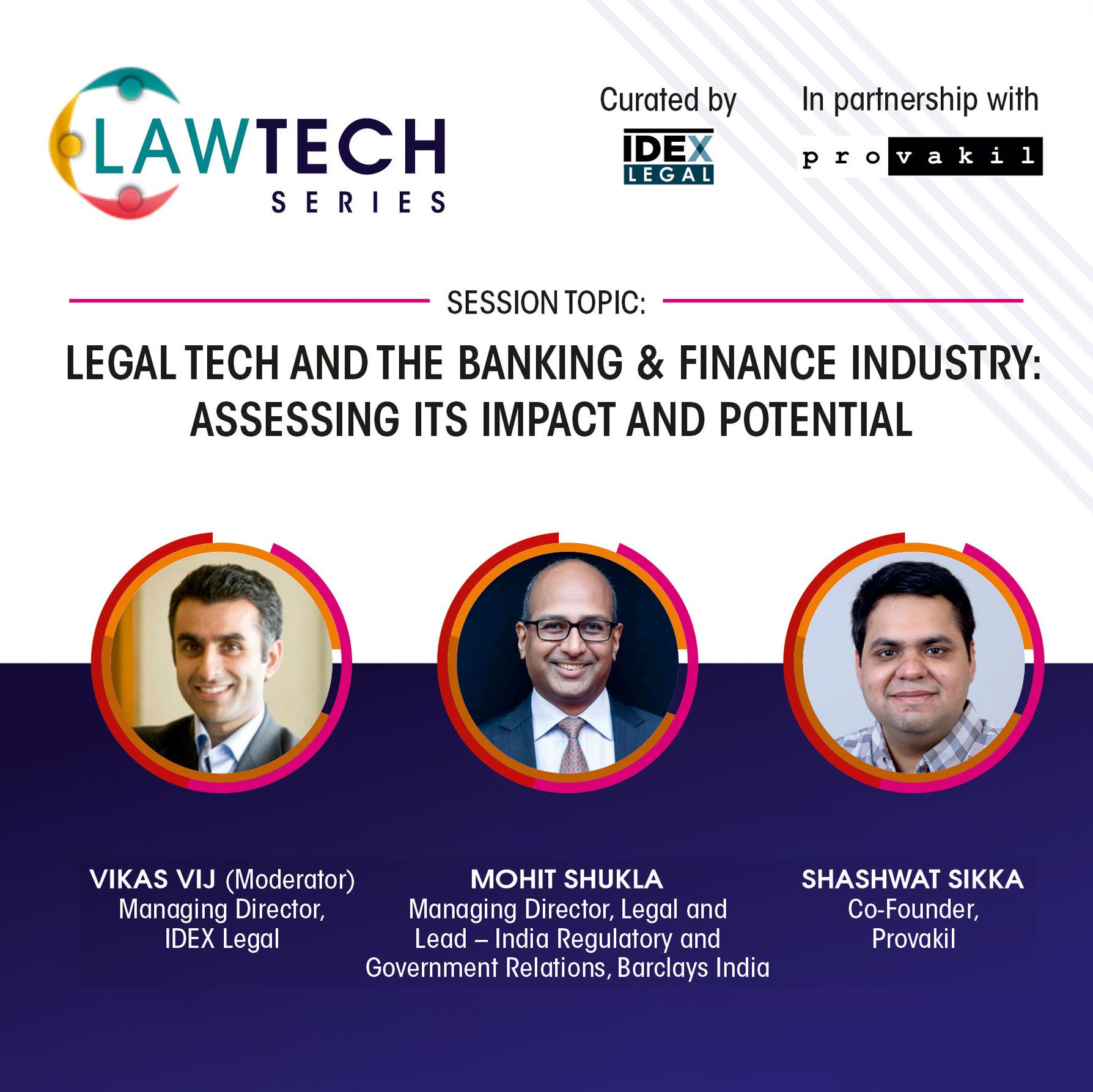 Legal tech and the banking & finance industry: Assessing its impact and potential
The last two decades have brought drastic changes in the way economies operate. At the core of these breakthroughs, advancements are banking and financial services.
On 17th Dec 21, Vikas Vij moderated the panel discussion around legal tech and BFSI industry.  The key highlights and notion of the webinar are capture here in this brief blog.  
Panel Introductions
Vikas Vij -
(Managing Director at Idex Legal)
Mohit Shukla -
(Managing Director, Legal and Lead – India Regulatory and Government)
Shashwat Sikka -
(Co-founder at Provakil)
The last two decades have brought drastic changes in the way economies operate. At the core of these breakthroughs, advancements are banking and financial services.
The sheer inertia of growth observed in the BFSI sector has brought in a plethora of advancements across the legal function that support the main framework of banking. The key areas that have observed notable advances are litigation management, regulatory/compliance, purchase order management, and law firm management.
The impact and scope of new technological advancements in space such as blockchain are already visible in the BFSI sector. Third-party platforms are enabling the purchase of receivables in terms of capital that is being deployed, recovery of capital, and re-deployment of capital back into the system. Which in turn makes the entire ecosystem much more agile and robust.
Many of these technological advancements that we see today are making strides into areas like online dispute resolution and how information can be materialized into actionable knowledge. And a lot of it is still work under progress.
Mohit Video
These advancements aren't a result of anything but the mandate created by the market's rapid growth. For instance, if a small enterprise (20 years back) wanted to raise a debt of ₹2 crores, it would take them anywhere from 3 months to a year. Today, it will take a small enterprise about three days to raise ₹2 crores. The core processes haven't changed much; in fact, they have only evolved to become more complex and interconnected to each other. What has evolved is customer expectations and the implementation of agile technology.
In 2020 when the pandemic brought the world to a standstill, it didn't de-accelerate the implementation of technology in the BFSI sector or most sectors for that matter. The pandemic accelerated technology implementation increased the scope, and created a broad acceptance of technology across the board.
Key Takeaways:
Litigation management is one key beneficiary of tech being incorporated into in-house practices.
If a business is not using technology meaningfully, they expose themselves to potential risks down the line.
Legal tech doesn't have to be this complex AI/ML dominated theory. Legal tech is a simple solution that can act as a business enabler.
Litigation management should not be just a tracker but a tool to identify what you need not continue with.
The legal teams now expect a contract management system to have e-stamping and e-signing capabilities, which was not the case before the pandemic.
Debt collection is observing massive overhaul due to technological advancements, digitization of courts, and favorable regulatory changes.
Wrapping Up
Thanks for joining us and going through the highlights.
If you wish to know more about Provakil get in touch with us. We would be happy to walk you through our solutions.
Provakil Blog Newsletter
Join the newsletter to receive the latest updates in your inbox.
---