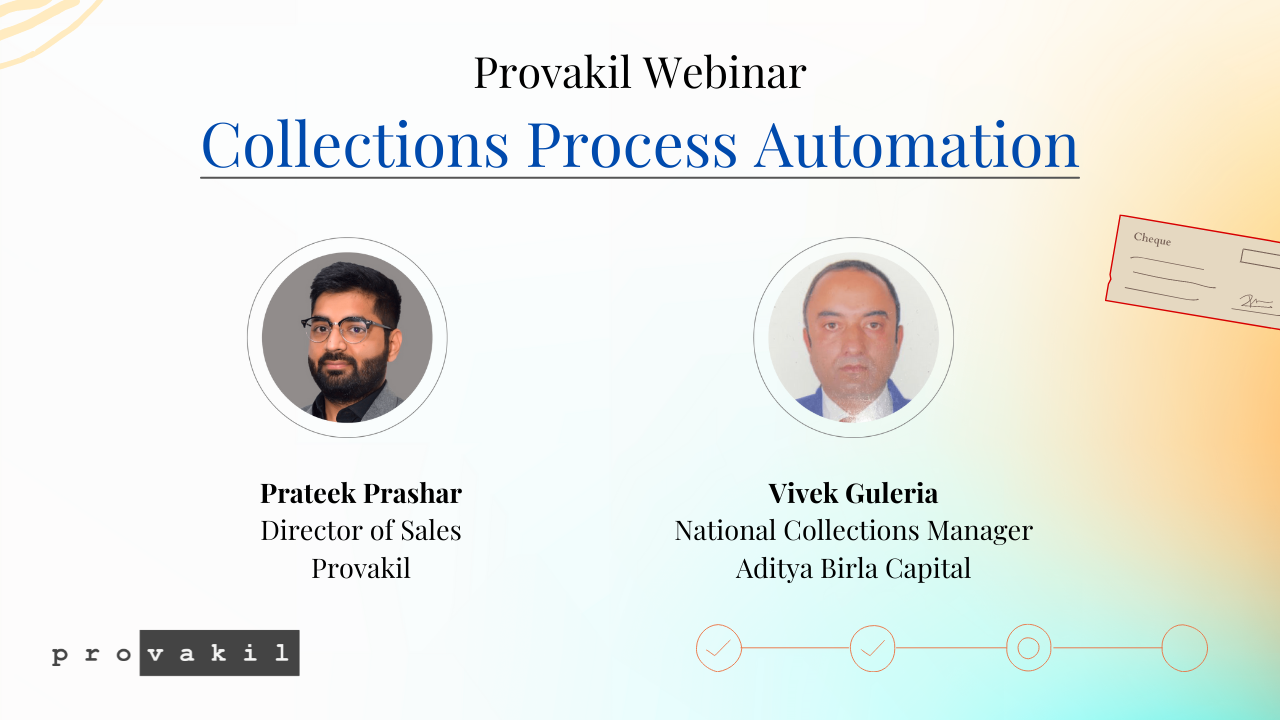 Collections Process Automation - Key Highlights
On Oct 7, 2021, we got the opportunity to join a vibrant webinar discussing automation in the Collections process. Our guest panelist, National Collections Manager for Aditya Birla Capital, Mr. Vivek Guleria shared deep insights on how the collections process functions and the critical challenges around it.
During the webinar, Prateek Prashar asked insightful questions which resonated with the audience (based on survey results). The questions asked allowed us to touch upon crucial areas of the collections ranging from how digital lending processes work to the impact of the pandemic on the collections departments.
Key Highlights from the session:
Due the changing landscapes of the economy, collections departments will face many new challenges. For eg, easy to access to loans may lead to increase in number of defaults.
Sending notices is a tedious process that requires various types of notices to be delivered. Fast businesses are adopting digital automation to make the process dynamic and trackable.
Pandemic has pushed businesses to adopt digital processes to maintain steady operations on the ground.
Due to the nature of operations, one of the significant challenges of collections is to consolidate all the information on one singular platform.
What to look for in a collections management system?
> Ease of use - Systems should be designed keeping their users in mind.
> Configurable systems are preferred over rigid systems to allow for last mile customizations.
> Each organization maintains multiple silos of data from different sources. Systems should be capable of connecting to different systems to perform pull and push data to help automation in operations.
Key Highlights from the QnA:
Legal notices delivered through WhatsApp would become a common practice among the collections team.
During the process of collection, the privacy of the customer can get affected, but if you follow the guidelines of RBI, it stays protected
The cost of collections will measurably go down if you implement technology in the process.
Conclusion
Thanks for joining us and going through the highlights. If you wish to know more about Provakil, get in touch with us.
Provakil Blog Newsletter
Join the newsletter to receive the latest updates in your inbox.
---