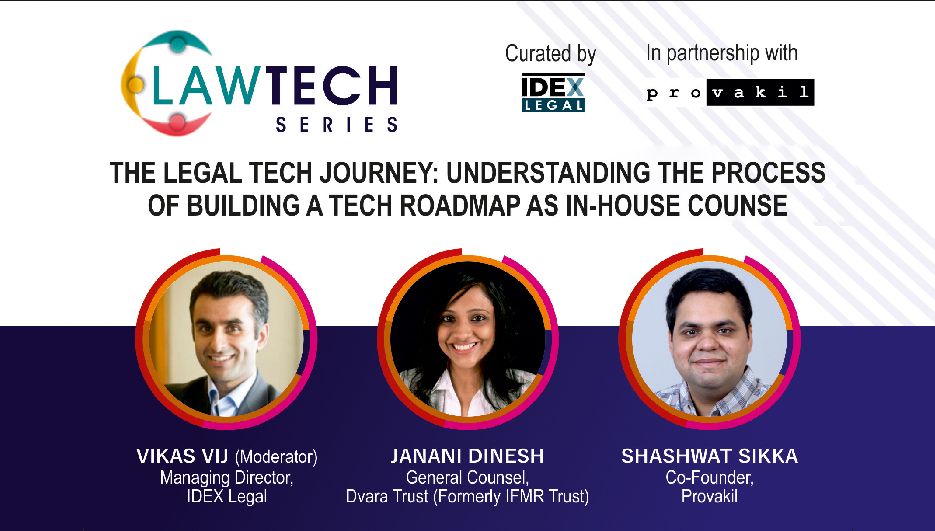 Highlights: The Legal Tech Journey: understanding the process of building a tech roadmap as in-house counsel
On 13th January 2022, we got the opportunity to catch up with Janani Dinesh and Shashwat Sikka to learn about the process of building a tech roadmap for an enterprise.
Panel Introductions
Vikas Vij -
(Managing Director at Idex Legal)
Janani Dinesh -
(General Counsel, Dvara Holdings)
Shashwat Sikka -
(Co-founder at Provakil)
To build a robust and agile tech stack for an enterprise, you first have to assess how the business operates and what role legal and compliance should play in the day-to-day business operations. Primarily there are three significant buckets of work that legal and compliance does; transactional work being one, regular business work/contracts being second, and regulatory and compliance assessment being the third.
In terms of assessing the gaps that tech can fill, first, you need to speak to the business functions and understand their primary challenges. In scenarios where a tech stack doesn't exist supporting the legal department, two primary challenges will emerge out of the introspection exercise. First, you capture the business-critical information like the expiry date of a contract in a standardized fashion, and second, that information is readily available at one central location.
The core operations and size of the business matter a lot. You have to look at established enterprises and startups with a very different perspective regarding how legal interacts with the core business. An established enterprise will explore what is broken in its current operations process and try to fix it. On the other side, a startup needs to solve commercial ambiguity, speed of operation, and regulatory/statutory compliance.
Key Takeaways:
The management expects legal to act as a business enabler and be agile to match the business's pace.
Companies who had implemented agile tech like e-signing saw accelerated tech adoption as a result of the pandemic.
Startups have started to realize the importance of legal being a vital stakeholder from the very beginning.
Data drives the impactful and intelligent implementation of tech across enterprises. A shift is being observed in legal teams across the globe.
People with non-legal backgrounds are joining legal teams to facilitate operational tasks that need not necessarily require legal background.
Wrapping Up
Thanks for joining us and going through the highlights.
If you wish to know more about Provakil get in touch with us. We would be happy to walk you through our solutions.
Provakil Blog Newsletter
Join the newsletter to receive the latest updates in your inbox.
---